The Sharpening Company
3702 West Sample Street, Suite #1105, South Bend, IN 46619 USA
Phone: 574-232-9348 Toll-Free: 877-4TSHARP (877-487-4277)
E-Mail: Info@tsharp.com
New, High Quality, Stainless Steel, Dental Instruments
Sickle & Curette Scalers - Most Priced at only $18.00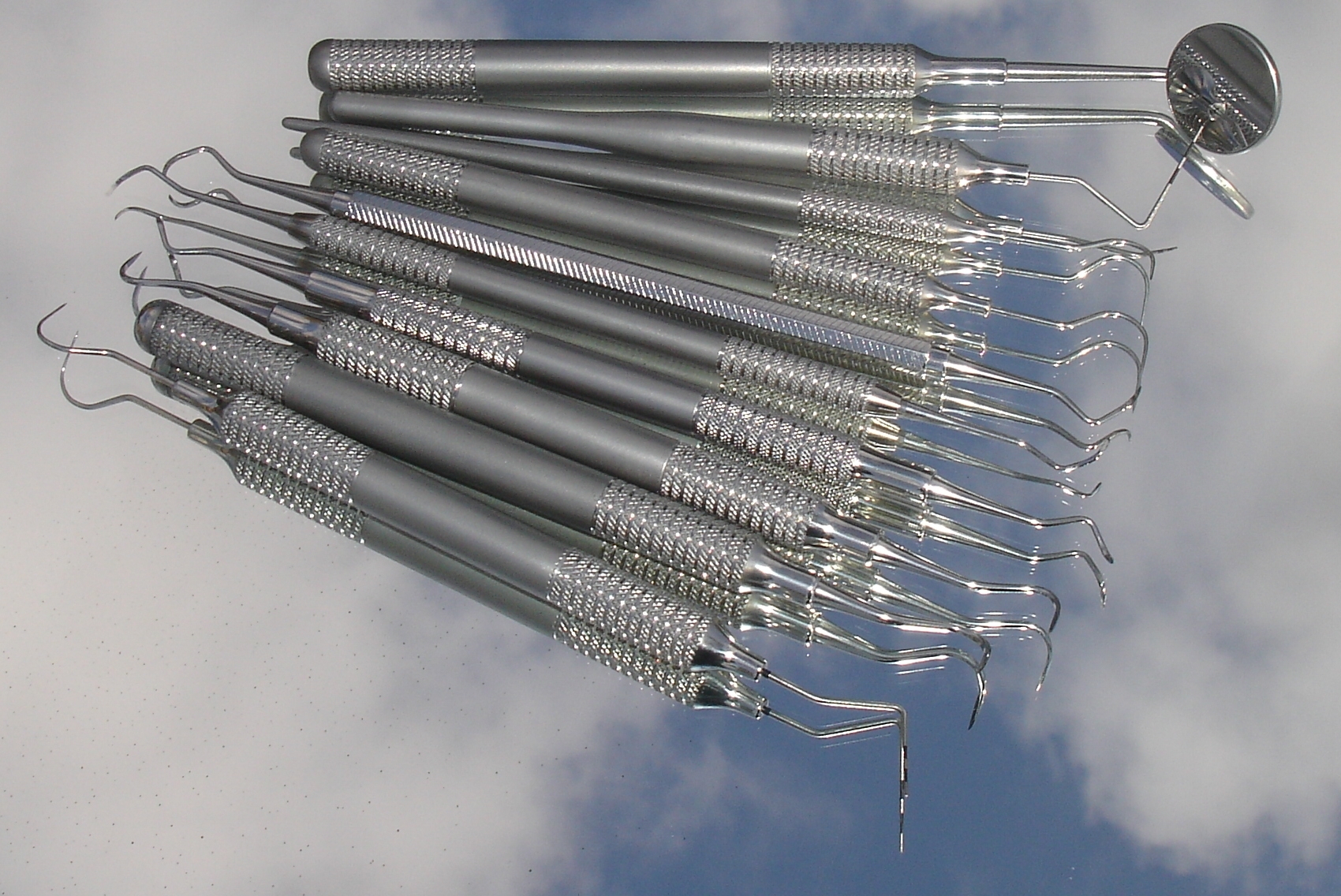 | | |
| --- | --- |
| | High Quality 440A Stainless Steel tips that are strong and durable. Sharpened and polished to an Ultra Sharp Edge! |
| | Satisfaction Guaranteed! |
| | Choice of Handle: |
#2 1/4" (6.35mm) Octagon shape handle for scalers & curettes, round shape for explorers/probes, & other instruments.


#2 1/4" (6.35mm) Round Stainless Steel handle for scalers & curettes, round shape for explorers/probes, & other instruments.

#4 5/16" (7.93mm) Round Stainless Steel Handle is light weight and easy to hold, with a .3125" diameter, to reduce hand stress.


#6 3/8" (9.52mm) Round Stainless Steel Handle, Popular size is also light weight and easy to hold, reducing hand stress.
#6 size is available for scalers, curettes & explorers.


| | |
| --- | --- |
| | Choice of instrument: |
Note: Most any Sickle Scaler, Curette, Explorer, Excavator, Carver, Composite/PFI, Plugger, Burnisher, or Probe is available. The most popular are listed Below:

Graceys
GR1/2, GR3/4, GR5/6, GR7/8, GR9/10, GR11/12, GR13/14, GR15/16, GR17/18
Gracey Rigid
GR1/2R, GR3/4R, GR5/6R, GR7/8R, GR9/10R, GR11/12R, GR13/14R, GR15/16R, GR17/18R
After Five Graceys (deep pocket curettes - SPRG)
AF1/2, AF3/4, AF5/6, AF7/8, MF9/10, AF11/12, AF13/14, AF15/16
Mini Five Graceys (shorter blade for deep, narrow pockets- SAS)
MF1/2, MF3/4, MF5/6, MF7/8, MF9/10, MF11/12, MF13/14, MF15/16
Sickle Scalers
H6/7, 204, 204S, 204SD, H5/33, U15/30, U15/33, SIUFW204, MC13/14S, MC17/18PT, MJ (Montana Jack), J30, J33, J31/32, J34/35, J14/15, J2S/3S
Curettes
LAN1/2, LAN3/4, LAN5/6, LAN17/18, SS5/6, SS9/10
Universal Curettes
BH1/2, BH5/6, COL13/14, COL2L/2R, COL4L/4R, MC13/14, MC17/18, YG7/8, YG15, SIU17/18, SIU13/14
Explorers: EXD2, EXD2A (pigtail), EXD2CH, EXD3, EXD3CH, EXD5 (17/23), EXD11/12, EXD11/12AF, EXP23, EXP6, EXDG16
Probes: PW, CP11, CP12, CP8, QOW, OW
Probe/Explorer Combos: EXP23/PW, EXP23/OW, EXP23/12, EXP23/11, EXP23/11.5B
Buy Online Under Construction
Instrument Name: Please use standard style numbers, such as GR1/2, 204S, COL13/14, SH6/7, etc. when placing an order.
We can also make special order instruments you may need with most any tip combination.
Please call if you have any questions. 877-487-4277


For fax or mail orders click here for an




Tsharp, The Sharpening Company, Inc. 3702 W. Sample Street, Suite 1105, South Bend, IN. 46619 phone: 877-487-4277 email: info@tsharp.com
Dental Instrument Sharpening, Dental Instrument Retipping, New Dental Instruments, Orthodontic Instrument Sharpening, Orthodontic Instrument Retipping, Orthodontic Instrument Repair, Medical Instrument
Sharpening, Medical Instrument Retipping, Medical Instrument Repair, Surgical Instrument Sharpening, Surgical Instrument Retipping, Surgical Instrument Repair, Beautician Scissor & Shear Sharpening, Nipper Sharpening, Veterinarian Instrument Sharpening, High Speed Handpiece Repair, Slow Speed Handpiece Repair, Dental Sharpening Equipment, Orthodontic Sharpening Equipment, Beautician Sharpening Equipment, Handpiece Repair Equipment, Retipping Supplies, Retipping Equipment, Repair Supplies, Hands on Training, Training DVD'S, Training Manuals.