Dental Instrument Sharpening & Retipping
Orthodontic Instrument Sharpening - Repair & Retipping
Dental Sharpen & Repair Order Form
Offering:
Instrument Sharpening & Repair
We can sharpen or repair most any dental, orthodontic, and medical instrument. Our full-refurbishing laboratory has strict quality controls enforced to give you the highest quality. Only qualified technicians will handle your instruments, which are quality inspected, buffed & polished before returning.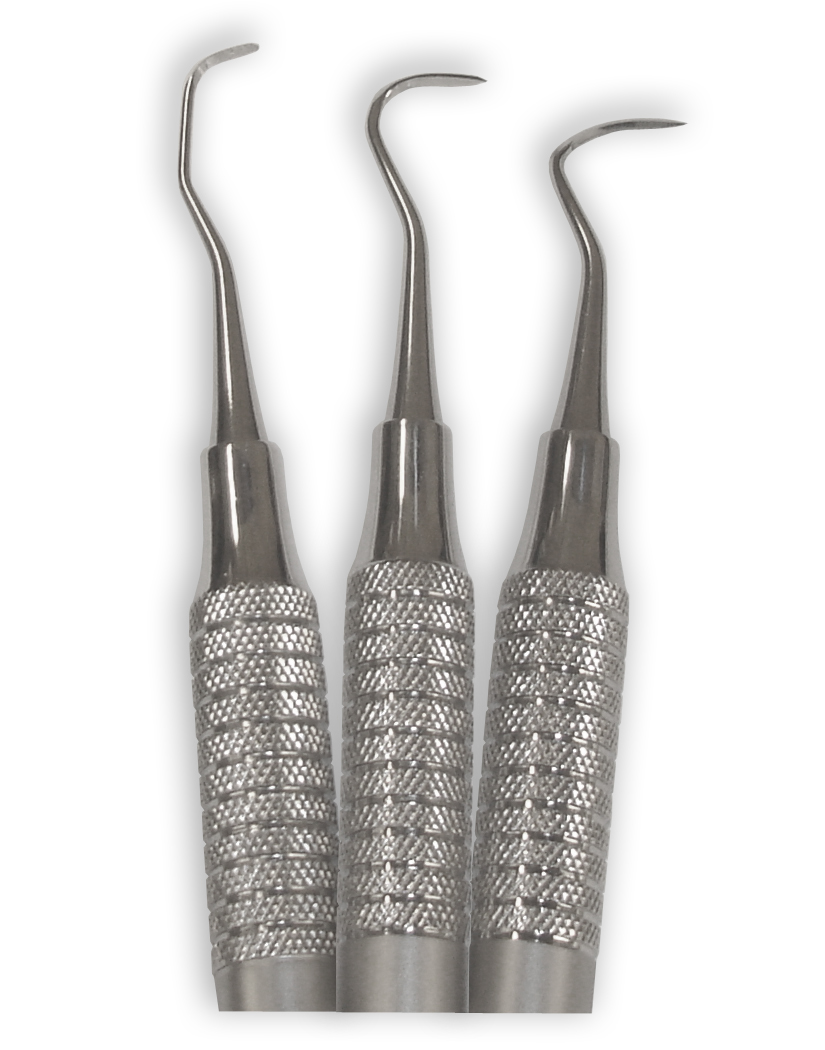 Instrument Retipping
Dental Instruments: Recycle the handles and save $$$. New high-quality tips are made of 440A stainless steel and finished with ultra sharp edges. Most any tip is available. Scalers, curettes, explorers, plastic filling, composite, carvers, pluggers, and excavators all price at only $3.50 per end. Some styles are additional, such as gingivectomy knives and perio files.

Orthodontic Wire Cutters (distal end & ligature) and Needle Holders:
New quality tungsten carbide inserts are used to replace worn inserts. Our specially developed inserts are extremely durable. Many doctors claim them to be stronger than the original tips.

Dental Handpiece Repair
Complete overhaul of high speed handpieces for only $90.00. Turbine replacement starting at $150.00
90 day warranty. Low speed and surgical handpiece repair is also available.

Why Use Our Service?

Better Quality Performance & Control!
We give you Ultra-Sharp edges, without altering the original design of the instrument, thus improving your dexterity and accuracy during medical procedures............... furthermore improving the quality of your patient care.


Save Time & Money $$$!
* Ultra-Sharp edges also improve your speed and produce more time for additional patient care. With our fast turn around time, you will have your instruments back quickly. Let our experts service your instruments, so you can spend your time where it is needed ..........with your customer.
* Properly maintained instruments last longer and save money on replacements by removing only the minimal amount of metal needed to produce high quality, ultra sharp edges.


Top Quality Sharpening!
With over 30 years sharpening experience in the medical industry, a complete refurbishing laboratory, & all instruments buffed, polished, & quality inspected..........We Guarantee Your Satisfaction!
All instruments and tools must be sterilized before sending in for service. Please keep instruments in the sterilization bags for proof of sterilization. Please package safely and send to our shipping address listed below. We recommend using a reliable carrier with insurance. You will

need

to sterilize your instruments again before using on your clients.

Please use the TSharp order form to list your instruments & tools

(use print order form link below)

. Please note any special requests

,

Include business card with contact name & phone number. Please also separate your instruments that you desire to have sharpened or retipped. You may also elect to have TSharp decide which instruments need to be retipped. Just mark your order "sharpen or retip as needed". *Any orders without clear instructions will be sharpened, retipped, and repaired as needed based on our experience and set criteria. Any instrument that is too short, thin, or broken must be retipped.

| | |
| --- | --- |
| | All orders will be returned via UPS Ground or U.S. Priority unless otherwise specified. UPS ground and U.S. Priority takes 1 - 4 business days, depending on location. Please note if you need the instruments expressed back by a certain date. Shipping charges will be added to the invoice. |
| | An invoice will be returned with your service order. No prepayment is required for service orders. Our terms are net 30 days. Payment can be made via check, money order, or credit card (Visa, MC, AmerEx & Discover). Please contact a TSharp representative if you have further questions. Thank you. |
Dental Sharpen & Repair Order Form

Offering Instrument Retipping, Handpiece Repair, and Instrument Sharpening.
Dental, Orthodontic, & Periodontal applications. Form lists most popular styles;
however, most any instrument or edge can be sharpened or repaired.



Tsharp, The Sharpening Company, Inc. 3702 W. Sample Street, Suite 1105, South Bend, IN. 46619 phone: 877-487-4277 email: info@tsharp.com
Dental Instrument Sharpening, Dental Instrument Retipping, New Dental Instruments, Orthodontic Instrument Sharpening, Orthodontic Instrument Retipping, Orthodontic Instrument Repair, Medical Instrument
Sharpening, Medical Instrument Retipping, Medical Instrument Repair, Surgical Instrument Sharpening, Surgical Instrument Retipping, Surgical Instrument Repair, Beautician Scissor & Shear Sharpening, Nipper Sharpening, Veterinarian Instrument Sharpening, High Speed Handpiece Repair, Slow Speed Handpiece Repair, Dental Sharpening Equipment, Orthodontic Sharpening Equipment, Beautician Sharpening Equipment, Handpiece Repair Equipment, Retipping Supplies, Retipping Equipment, Repair Supplies, Hands on Training, Training DVD'S, Training Manuals.