Sharpening Accessories, Parts, Equipment & Supplies:

Please click

for Carbide Insert, Parts for Needle Holders and Orthodontic Cutters, Silver Solder

Please click

for lights, magnifiers and Work Stations.

(Please scroll down through our products or click on the buttons below to go directly to desired product.)


Wheels (diamond & Rubber)


Belt Sander Package


Hand-Held Files & Hones


2" Honing Disks (for disk honing machines)


Flex Shaft Components: (balls, cones, disks)


Cleaners, Lubricants, Buffing Compounds


Misc. Sharpening Accessories




Diamond Wheels
Last Longer and do not go "out of round" like other wheels.

These wheels will sharpen quicker, more efficiently, and save on finishing time.
1/8" thickness diamond plating, 100%concentration.
Please Note: Other Grits and sizes are available through special order.

ITEM#

DESCRIPTION

PRICE

3" Replacement Wheels for TruHone Knife
Send your arbors for remount of quality diamond wheels.
set of 4 wheels (2 pairs), 240 grit.

*Tru Hone is a registered trade mark of the Tru Hone Corporation

TH-240

240 grit diamond wheels, set of 4 (2 pairs)

DW-443

1.5" Diamond Wheel with Adapter, 400g
Adapter attaches to side driver of EM2000 machine for sharpening of the inside bevel of nippers.1.5"x3/8"x1/2"

TS-535

5"x1/2"x1/2",1/8"Concentration-depth Replacement Wheels for TwiceAsSharp Scissor Sharpener 400 grit diamond wheel for sharpening all types of scissors, including carbide tipped.

6" X 1/2" Grinding Wheels for personal bench grinders

DW-440

240g Diamond Wheel (1/2"W)
Used for shaping instruments. 1/8" thick 100% diamond concentration. Long Lasting.

RW-441

Black Rubberized Silicon Carbide (1"W) Wheel
Fine RSC for finishing & polishing retipped instruments and other fine applications.

RW-442

Red Rubberized Silicon Carbide (1"W) Wheel
Medium RSC for coarser applications.

DS-445

Dressing Sticks for diamond wheels
4"x3/4"x3/4", 150Grit

$5.00
Click here to return to Menu at Top: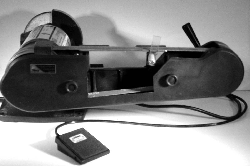 BS-250 TSharp Belt Sander Set
Saves Time! Shape instruments before using the honing
machine. Much faster! Ideal for surgical instruments
such as osteotomes which have big chips or nicks in the
cutting edge. Foot switch control allows hands free
positioning. Buffer gives you the capability of producing
ultra fine edges with one machine. The sander has an
enclosed, fan cooled, 1/3 HP motor.


Specifications:
Belt speed: 4400 FPM
Disk speed: 3450 RPM
Motor: 120V, 3.51 AMPS
Weight: 30 lbs


Set Includes:


1"x42" Belt Sander and 6" Buffing Wheel with foot switch control & scissors guide


Six 1x42" 1

5

0 Norzon Plus Sanding Belts


15oz Industrial Stick Wax Lubricant


3.5oz Premium Buffing Compound


BS-250 TSharp Belt Sander Package $

450.00

Note: This unit is modified from its original manufactured state by The Sharpening Company.
Belts Also Sold:
BS-251 150 grit Norzon Plus Sanding Belt, 1"x42" $3.60


BS-252 350 grit Norax Sanding Belt, 1"x42" $4.75

Click here to return to Menu at Top: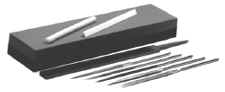 Hand-Held Files & Hones
ITEM #
DESCRIPTION
PRICE

EM 2002

Hand Hone/File Kit: Includes 6 files, 2 hones, & 1 bench stone (AR-240, AR-241, IN-243, FC-230, FN-225)

$147.00

Chequering Files:
Serrates edges of scissors & other instruments

FC-230

#4 - Fine Chequering File

$48.00

FC-231

#2 - Medium Chequering File

$37.00

FC-232

#0 - Coarse Chequering File

$40.00

Needle Files, (325g):
Used to sharpen special surgical edges
such as saws, files, burrs.

FN-220

Round Needle File

FN-221

Half-Round Needle File

FN-222

Square Needle File

FN-223

3-Square Needle File

$16.50

FN-224

Equalling Needle File

$16.50

FN-225

Set of 5 Needle File

$75.00

Misc. files and hones

FT-210

Double Ended File, 325 grit, (4" x .44" x 1.5")
For sharpening hard to reach places and distal end cutter.

$25.00

IN-243

Combination Bench Stone--India stone, Fine & Course Grits

$25.00

AR-240

Arkansas Round Hone, 1/4" x 3 3/8" (translucent)

$17.50

AR-241

Arkansas Triangular Hone, 1/4" x 3 3/8" (translucent)

$15.00

VH-501

3"x1"x.375" India Flat Sharpening Stone

$7.00

VH-502

3"x1"x.375" Arkansas Flat Sharpening Stone

$15.00
Click here to return to Menu at Top:



2" Honing Disks


For use on EdgeMaker2000 and 1000 machines,
Rx Honing Machine, Standard Rotary Hand Pieces,
& Similar Equipment Press onto 1/8" D Shaft for efficient honing.
(Round shaft opening available upon request.)
| | | |
| --- | --- | --- |
| ITEM# | For Fast Cutting: | PRICE |
| DD-207 | Resin Bond Diamond Disk (600g) | $35.00 |
| DD-200 | Diamond Disk (325g) | $31.00 |
| DI-206 | Fine India Stone Disk | $10.00 |
| | For Smoothing & Buffing: | |
| DS-201 | Cratex Silicon Carbide Black Fine Disk | $20.00 |
| DS-202 | Cratex Silicon Carbide Red Medium Disk | $20.00 |
| DL-203 | Leather Finishing Disk | $10.00 |
| | Fine Disks for Ultra-Fine Edges: | |
| DA-204 | Hard Arkansas Stone Disk (discontinued) | |
| DC-205 | White Ceramic Disk | $15.00 |
Click here to return to Menu at Top: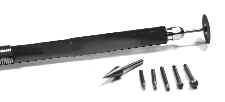 Flex Shaft Components:
FS-300

Flex shaft handpiece for pencil control of balls, cones, & disks. For hard to reach places such as bone curettes and rongeurs, rasps, etc.

$110.00
EM-2001
Flex Shaft Kit (featured above): includes hand piece & 7 flex components: FS-300, FB311, FB312, FB313, FB314, FB315, FC331,FD-324, TM-341
$259.00

325g Diamond Flex Shaft Balls:
For honing any cupped surface such as bone curettes and rongeurs. Choose ball size closest to basket size.


PRICE
FB-311
1.6mm (1/16") Flex Shaft Ball
$15.00
FB-312
2.4mm (3/32") Flex Shaft Ball
$15.00
FB-313
3.2mm (1/8") Flex Shaft Ball
$15.00
FB-314
4.8mm (3/16") Flex Shaft Ball
$15.00
FB-315
6.4mm (1/4") Flex Shaft Ball
$15.00
ITEM#

Flex Shaft Cones:
8.0mm (5/16"), 25° cone for inside of ring curettes, trephines, & dermal punches. (Also used to sharpen laparoscopic hook scissors.)


PRICE
FC-331
Diamond Flex Shaft Cone, 325 grit
$

19

.00
FC-332
Ceramic Flex Shaft Cone
$50.00
ITEM#

Flex Shaft Disks:
Used for polishing and Deburring in difficult areas. (Picture is shown with disk on mandrel, sold separately)

PRICE

FD-324
Diamond Disk, 22mm, 325 grit
$20.00
FD-321
Felt Disk, 25.4mm (1") x 1/8" Set of 6
$3.00
FD-322
Leather Disk, 25.4mm (1") Set of 6
$5.00
FD-323
Silicon Carbide Disk, 22.4mm (7/8") Set of 6
$7.00
TM-341
TSharp Mandrel - attaches above disks to 1/8" shaft, then can be load into flexshaft handpiece. Must have mandrel to use the above flex shaft disks.
$5.00
Click Here to return to Menu at top: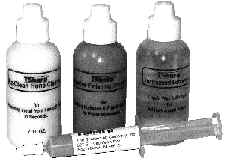 Cleaners, Lubricants, & Buffing Compounds
EZ-100
Ez-Clean Hone Cleaner/Lubricant, (2 oz)
Removes metal from hones & disks in seconds.
Easy to use. Just Wipe on & Wipe off.
$5.00

Oil Pen

1/4 Oz. Lubricant-Cleaner for Highspeed, Slowspeed Handpieces, Attachments and Jointed instruments. Autoclavable and Non-Toxic

$5.00
LC-101
TSharp Leather Finishing Compound,(2oz)
Apply to leather disks for buffing surfaces and finishing edges to razor sharpness.
$5.00
DF-102
Diamond

Compound Fine

Finish, (

5

gr. syringe)
Ultra-fine 2-4 micron for very delicate edges.
(i.e. eye knives and other micro-surgical knives.)
$

15

.00
Click Here to return to Menu at top:


ITEM#
PRICE
Description

SV-470

$40.00

TSharp Swivel Vise


A versatile vise to securely hold your instruments while sharpening. Instruments can be positioned through 3 planes without removing from vise. Head rotates 360º, tilts a full 180º. Soft rubber jaws protect the instrument. Vacuum attachable.

PV-471

$12.00

Pin Vise


Pin Vise holds round parts from .045 - .135"
Can be combined with flex shaft components to form hand hone for touch ups & Deburring.
SK-420

$53.08

Screw Adjustment Kit


Used for simplified adjustment of the screws in various instruments. Kit includes: pliers, 8 bits in various sizes, thread & nut lock to lock screws in place, instructions, and storage box.
Anvil and Hammer Kit
A simple solution to cutting edge alignment of riveted scissors, ligature cutters, ronguers, micro instruments, etc. Simply tighten the joint by peening the rivet using hammer and tempered steel

domed

anvil.
AH-411
$1

5

.00

8 OZ. HAMMER
AH-412
$

3

5.00

2" X 1 3/4"

Domed

ANVIL
DR-430
$5.00


Disk Removal Tool


Provides ease in removal of components from the disk spindles. Simply place fork under part & pry up.
LT-130
$5.00


Latex Scissors Test


.006 gauge, 5" x 5" Latex Squares
Provides critical test for scissors sharpness.
Set of 10 squares.
ST-120
$3.00


Test Sticks


Edge digs into plastic & provides
quick test for sharpness.
Set of 3 Test Sticks
Click Here to return to Menu at Top:


To Order Products:
Please Call, Fax, or E-mail your order.

Tsharp, The Sharpening Company, Inc. 3702 W. Sample Street, Suite 1105, South Bend, IN. 46619 phone: 877-487-4277 email: info@tsharp.com
Dental Instrument Sharpening, Dental Instrument Retipping, New Dental Instruments, Orthodontic Instrument Sharpening, Orthodontic Instrument Retipping, Orthodontic Instrument Repair, Medical Instrument
Sharpening, Medical Instrument Retipping, Medical Instrument Repair, Surgical Instrument Sharpening, Surgical Instrument Retipping, Surgical Instrument Repair, Beautician Scissor & Shear Sharpening, Nipper Sharpening, Veterinarian Instrument Sharpening, High Speed Handpiece Repair, Slow Speed Handpiece Repair, Dental Sharpening Equipment, Orthodontic Sharpening Equipment, Beautician Sharpening Equipment, Handpiece Repair Equipment, Retipping Supplies, Retipping Equipment, Repair Supplies, Hands on Training, Training DVD'S, Training Manuals, Cratex.