EdgeMaker2000 Orthodontic System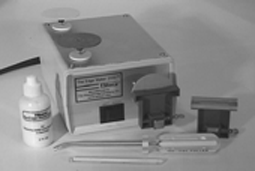 Sharpen all of your orthodontic
instruments to like new condition
in just seconds per instrument.
Great for Distal End and Ligature
wire cutters.
3 High powered motors activate honing disks at speeds up to 7000 r.p.m.
Direction switch chooses optimum disk rotation for minimal burrs.
Operational control chooses table tops or side motor.
Foot switch activates components, providing hands free operation.
Machine Specifications: Available in 110 or 220 volt. Runs on 35 watts. Size: 7 1/2" x 4" x 5 1/2", weighs only 5 pounds, Can easily be transported.
Two Year Warranty: The Sharpening Company warrants the initial purchaser of the product that it will be free of manufacturing defects for a period of two years following the date of purchase. We also stand behind all of our products & services with a 30 day money back guarantee. Your satisfaction is very important to us.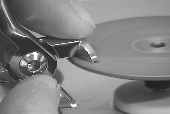 Use the top drivers for sharpening Ligature and Distal End wire cutters. Here we show the sharpening of the distal end cutter on a diamond hone.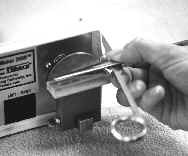 Scissors can easily be sharpened in a few seconds by using the scissor guide. Just position scissor flat on guide and pull across honing disk.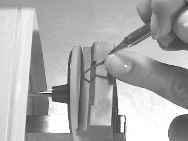 To sharpen scalers & curettes just position the terminal shank on the scaler/curette guide and slide into the honing disk. Only a few seconds is needed per angle.

EM2000-ODON set includes:
EdgeMaker2000 Machine
2 Diamond Honing Disk (325 grit)
2 Ceramic Disk
2 Leather Disk
1 Diamond Resin Bond Disk
1 Rubber RSC Disk
1 Angle Guide for Scalers & Curettes
1 Angel Guide for Scissors
1 - 2oz. Ez-Clean Hone Cleaner/Lubricant
1 - 2oz. Leather Finishing Compound
1 - Accessories Storage Box
1 - Disk Removal Tool
Orthodontic Instructional video & Manual
The Complete Set Only $769.99



Tsharp, The Sharpening Company, Inc. 3702 W. Sample Street, Suite 1105, South Bend, IN. 46619 phone: 877-487-4277 email: info@tsharp.com
Dental Instrument Sharpening, Dental Instrument Retipping, New Dental Instruments, Orthodontic Instrument Sharpening, Orthodontic Instrument Retipping, Orthodontic Instrument Repair, Medical Instrument
Sharpening, Medical Instrument Retipping, Medical Instrument Repair, Surgical Instrument Sharpening, Surgical Instrument Retipping, Surgical Instrument Repair, Beautician Scissor & Shear Sharpening, Nipper Sharpening, Veterinarian Instrument Sharpening, High Speed Handpiece Repair, Slow Speed Handpiece Repair, Dental Sharpening Equipment, Orthodontic Sharpening Equipment, Beautician Sharpening Equipment, Handpiece Repair Equipment, Retipping Supplies, Retipping Equipment, Repair Supplies, Hands on Training, Training DVD'S, Training Manuals.