EdgeMaker2000 Beautician Set


TwiceAsSharp Scissor Sharpener


Hira-To Flat Hone Sharpener


Accessories


Sharpening/Repair Services

New EdgeMaker2000 Beautician Set
For Nippers & Beautician Shears
This machine is recommended for sharpening nippers and delicate beautician shears. We have used over 30 years experience to give you the latest in technology. The new set includes machine, accessories, and detailed instructional video. Priced at only $849.99 Click here for details.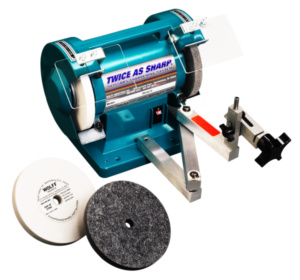 Twice as SharpÒ
Scissors Sharpener
by Wolff Industries
This Machine is excellent for fast, easy sharpening all types of scissors. Special clamp positions scissors for precise duplication of bevel. Priced at only $440.00 STD-TAS
Click here for details




Hira-To Sharpener with Hook and Loop or PSA by Wolff Industries

The Hira-To is a single head flat hone with a patented fixture and arm assembly. The fixture sharpens both right hand and left hand shears and allows you to set a precise angle making sharpening a breeze. The sliding arm allows the sharpener to convex the entire front surface of the shear. Because of this the sharpener will not miss the back side of the spine. The machine has variable speed, forward and reverse controls, and a quick change head.

Create a Factory Look with a Factory Edge!!!

The Wolff Hira-To comes with:
5 Quick Change Plates
1 3 Micron Diamond Polishing Pad
30 Assorted Micron Discs
1 Ceramic Water Stone
1 Training DVD
1 Dust Mask & Safety Goggles
1 Scissors Lube
3 Practice Shears
1 Bottle H-42
1 Owners Manual
1 Set Adjusting Tool
1 Small Repair Parts Kit
1 Deluxe Screw Pliers Kit

Micron abrasive disks are secured by a hook & loop type system or PSA

Priced at only $3000.00
Accessories also available:

Latex Test Squares (Set of 10)
.006 gauge, 5"x5" squares. Provides critical test for scissors sharpness.
LT-130 $5.00

Screw Adjustment Kit
Used for simplified adjustment of screws. Kit includes pliers, 8 bits in various sizes, thread & nut lock, instructions, & storage box.
SK-420 $53.08

Hammer & Anvil
Used for joint adjustment. Simply tighten joints by peening the rivet using the hammer and the tempered steel anvil.
AH-411 $15.00 8 oz Hammer with wood handle
AH-412 $35.00 2" x 1 3/4" tempered steel anvil

Chequering Files
For Serrating the edges of scissors.
FC-230 #4-fine (75 lpi) $48.00
FC-231 #2-medium (50 lpi) $37.00
FC-232 #0-coarse (30 lpi) $40.00


TSharp Swivel Vise
A versatile vise to securely hold your scissors during serration. Instruments can be positioned through three plains without removing from vise. Head rotates 360 degrees, tilts 180. Soft rubber jaws protect instrument. Vacuum attachable.
SV-470 $40.00

Also Available:
Quality Sharpening/Repair Service
in our Full-Refurbishing Laboratory
---------------------------------------------------------------
Japanese Style Shears $15.00
Regular Scissors $10.00
Serrated Scissors $12.00
Micro/Spring Scissors $15.00
Nippers: $15.00
--------------------------------------------------------------

Over 30 years experience. Satisfaction Guaranteed.
Mail your scissors & nippers to shipping address listed below.

Note: To order or for more information
please phone, e-mail , or fax us your request. Thank you.


Tsharp, The Sharpening Company, Inc. 3702 W. Sample Street, Suite 1105, South Bend, IN. 46619 phone: 877-487-4277 email: info@tsharp.com
Dental Instrument Sharpening, Dental Instrument Retipping, New Dental Instruments, Orthodontic Instrument Sharpening, Orthodontic Instrument Retipping, Orthodontic Instrument Repair, Medical Instrument
Sharpening, Medical Instrument Retipping, Medical Instrument Repair, Surgical Instrument Sharpening, Surgical Instrument Retipping, Surgical Instrument Repair, Beautician Scissor & Shear Sharpening, Nipper Sharpening, Veterinarian Instrument Sharpening, High Speed Handpiece Repair, Slow Speed Handpiece Repair, Dental Sharpening Equipment, Orthodontic Sharpening Equipment, Beautician Sharpening Equipment, Handpiece Repair Equipment, Retipping Supplies, Retipping Equipment, Repair Supplies, Hands on Training, Training DVD'S, Training Manuals.