Dental Sharpening Systems

With over 30 years experience in the dental industry, we use the latest in technology to bring you an assortment of sharpening systems that are easy to use and will save you time and money. Please click on the topics below to for more information on a specific system, or simply scroll down.

Sharpening Systems:
EdgeMaker1000™ -- Honing Machine for Hygiene Instruments
EdgeMaker2000™Dental -- Deluxe Model for All Instruments
Vhone™ -- Hand-Held Honing Device for Scalers & Curettes
Accessories/Replacement Parts

Disk Honing Machine for easy sharpening of scalers, curettes, and explorers.

Easy-to-Use System quickly sharpens all your periodontal curettes,
scalers and other dental instruments in one setting.
Precision Angle Guide positions your instrument to the exact angle
on a fine hone for accurate sharpening & prolonged instrument life.
Concave Edge on Honing Disk
which makes it easy to sharpen curette tips, excavators, & explorers points.
3-way Rocker Switch, left-off-right, chooses optimum rotation to create burr-free edges.
Runs on a high-powered motor Plug into any 110 Volt outlet for easy operation.
* 220/240 V.A.C. model is available for export.

EM1000AC set includes:

* Disk honing machine
* Dental Guide
* Resin Bond Diamond Honing Disk
(New Technology Diamond Abrasive)
* Cleaning Stick (Cleans debris from disk)
* Test Stick (to test for sharpness)
* Instructional Video & Manual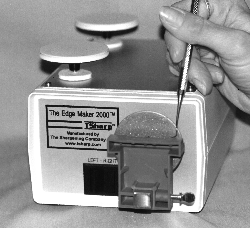 EdgeMaker2000™ Dental
Deluxe Disk Honing Machine for maintaining dental instruments of all types to like new condition.
MORE EFFICIENCY! Powered by 3 motors.
Operation Control chooses table top motors or side motor.
Direction Switch chooses optimum motor shaft rotation.
Foot Switch activates components, providing hand's free operation.
Speed Dial controls rate up to 7000 R.P.M., providing 30% more power

for sharpening of large instruments and quicker finishing.
SUPERIOR EDGES! Produces Ultra-Sharp edges with accurate angles in just seconds per instrument. Restores and maintains instruments of all types to like-new condition, removing minimal metal, thus increasing the instrument's life.
Easy-To-Use. Specially designed hones make sharpening fast and guides insure accuracy.
Includes angle guide for scissors and for dental scalers/curettes.
Direction control enables optimum rotation to produce burr-free and sharper edges.

EM-2000D sharpening system includes:



* EM2000 disk honing machine
*

8

Honing Disks:


2

Diamond

Disks

(325g)
1

Diamond Resin Bond Disk


2

Rubber RCS Disks


2 Leather Disks


1 Ceramic Disk


* Disk Removing Tool
*

2 oz.

Hone Cleaner/Lubricant
*

2 oz.

Leather Finishing Compound
* Dental Angle Guide
* Scissor Angle Guide
* Detailed Instructional Video & Manual
The Complete Set is Only $

76

9.99

$769.99 220 volt

Machine Specifications: Available in 110 or 220 volt. Runs on 35 watts. Size: 7 1/2" x 4" x 5 1/2", weighs only 5 pounds, Can easily be transported.
Two Year Warranty: The Sharpening Company, Inc., warrants the initial purchaser of the product that it will be free of manufacturing defects for a period of two years following the date of purchase. We also stand behind all of our products & services with a 30 day money back guarantee. Your satisfaction is very important to us.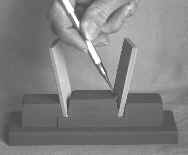 VHone™
Hand-held Honing Device
for
Dental Scalers and Curettes
Easy-to-Use. Just rest instrument on the angle guide and pull up across the hone.

Unique 'V' shape allows for quick sharpening of both sides of your instrument without having to reposition the VHone.

2 angle guides position your instrument at the correct, precise angle.
(1) for Universal Curettes & Scalers and (1) for Gracey Curettes.

Revolutionary way to finish round tips of curettes. A groove is located on the side of the stones. Just position instrument in the groove and pull up across the hone.

Portable. Can be used chair side as it can be dry-heat sterilized or autoclaved.

Has two 3"x1" India stone hones for quick efficient sharpening.
(Arkansas stones are also available.)

Comes complete with instructions and test stick for only $39.99
Accessories/Replacement Parts

Set of 3 Test Sticks (used to test sharpness)
ST-120 $3.00

EZ-Clean Hone Cleaner/Lubricant (2 fl.oz.)
Removes metal from hones and disks in seconds. Simple wipe on and wipe off with soft cloth. Used on Arkansas stone, ceramic, and leather disks.
EZ-100 $5.00

2" Honing Disks for EdgeMaker Machines
DD-207 $35.00 Resin Bond Diamond Disk, 600 grit
DD-200 $31.00 Diamond disk, 325 grit

DA-204 $20.00 Hard Arkansas stone (discontinued)
DI-206 $10.00 Fine India Stone
DL-203 $10.00 Leather finishing disk
DC-205 $15.00 Ceramic Very fine Disk
DS-201 $20.00 Black Rubber (Extra Fine)
DS-202 $20.00 Red Rubber (Fine)

VHone Replacement Sharpening Stones: (Also for hand-held use)
VH-501 $7.00 3" x 1" Fine India Sharpening Stone
VH-502 $15.00 3" x 1" Hard Arkansas Sharpening Stone


To Order Products,
Please Call, Fax, or email.


Tsharp, The Sharpening Company, Inc. 3702 W. Sample Street, Suite 1105, South Bend, IN. 46619 phone: 877-487-4277 email: info@tsharp.com
Dental Instrument Sharpening, Dental Instrument Retipping, New Dental Instruments, Orthodontic Instrument Sharpening, Orthodontic Instrument Retipping, Orthodontic Instrument Repair, Medical Instrument
Sharpening, Medical Instrument Retipping, Medical Instrument Repair, Surgical Instrument Sharpening, Surgical Instrument Retipping, Surgical Instrument Repair, Beautician Scissor & Shear Sharpening, Nipper Sharpening, Veterinarian Instrument Sharpening, High Speed Handpiece Repair, Slow Speed Handpiece Repair, Dental Sharpening Equipment, Orthodontic Sharpening Equipment, Beautician Sharpening Equipment, Handpiece Repair Equipment, Retipping Supplies, Retipping Equipment, Repair Supplies, Hands on Training, Training DVD'S, Training Manuals.