The EdgeMaker2000™
Surgical Sharpening System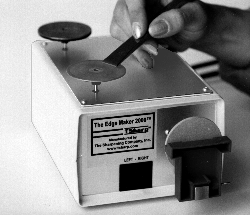 Use The Latest in Technology!!!
Maintain and sharpen medical & dental instruments of all types to like-new condition.
Easy-to-Use System!!!
Just position instrument correctly on hone, then activate mechanical honing process with foot pedal. Both hands are free to hold the instrument. Instructional video and manual are included.
Over 30 Years experience!!!
Our experience in designing precision honing equipment and maintaining medical instruments has been used to provide you with the ultimate in technology and training so you can now
Start your own sharpening service, Maintain you own instruments, or Improve on your current sharpening techniques.

SS-2000 The Complete Surgical System Only $1200.00

$1200.00 220 volt

Includes:
EM-2000 EdgeMaker2000 Machine Set
EM-2001 Flex Shaft Kit
EM-2002 Hand Hone / File Kit
EM-2003 Accessories Kit
VI-100 Instructional Video for surgical instruments
IN-103 Instructional Manual for surgical instruments
Please Note: All items can be purchased separately as noted below,
or as the complete surgical system.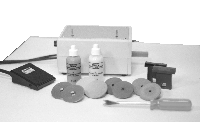 EdgeMaker2000™:
Disk honing machine includes 3 motors that rotate the disks at speeds up to 7000 rpm. Has direction control and foot switch for easy operation.
Machine Specifications:

Available in 110 or 220 volt. Runs on 35 watts. Size: 7 1/2" x 4" x 5 1/2", weighs only 5 pounds, Can easily be transported.
Two Year Warranty: The Sharpening Company warrants the initial purchaser of the product that it will be free of manufacturing defects for a period of two years following the date of purchase. We also stand behind all of our products & services with a 30 day money back guarantee. Your satisfaction is very important to us.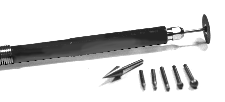 Flex Shaft Kit:
Provides pencil control for balls, cones, and disks to hone instruments which are not accessible to the 2" honing disks. Can be used at the same time as the honing disk without disconnecting from the machine. Kit includes: Flex Shaft handpiece, 5 diamond balls in various sizes, diamond cone and diamond disk. $259.00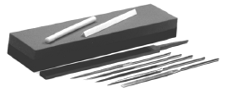 Hand Hone / File Kit:
Used for deburring, touchup work, certain shapes and hard to reach places. Kit Includes:
2 - Arkansas hand hones (triangular & round)
1 - Combination India Bench Stone
Set of 5 diamond needle files (in various shapes)
1 - #4 Fine chequering file $125.00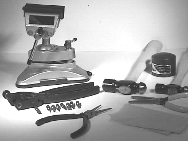 Accessories Kit:
For repairing and testing instruments. Kit includes:
1 - 8oz hammer & 1 - 2" anvil (for joint adjustment)
1 - Swivel vise (holds instruments)
1 - Screw adjustment kit
2 - forceps alignment pliers (duckbill & needle nose)
10 - Scissor test squares $150.00




Surgical Instruction Video:
One hour video walking you through sharpening procedures for most types of surgical instruments. Including scissors, forceps, ronguers, curettes, cutters, and more. $40.00
Surgical Instruction Manual:
Follows along with the surgical video in an easy to read written format. Placed in a handy note book to allow for the insertion of future updates on cutting edge technology. $10.00

Also Available
* Dental Instruction Video: A detailed instructional video detailing honing procedures for various dental instruments. $40.00
* Orthodontic Instruction Video: A detailed instructional video detailing honing procedures for various orthodontic instruments. $40.00
* Needle Holder Retipping Video: A detailed instructional video detailing repair procedures for replacing carbide inserts on needle holders. $40.00
* Training & Technical Assistance: In addition to the videos and manuals, we offer in-house training. This gives you one-on-one experience with an expert sharpener. The class is catered to your specific needs and what instruments you wish to cover. Cost is $800/day (travel expenses notincluded). Please contact us for more information.
Please click here for some sharpening clips on
using the EdgeMaker2000 Sharpening system.
Please contact a TSharp representative for more information or to order your new system and get started sharpening your surgical instruments today.
Satisfaction Guaranteed!
Click Here to Return Top of Page


Tsharp, The Sharpening Company, Inc. 3702 W. Sample Street, Suite 1105, South Bend, IN. 46619 phone: 877-487-4277 email: info@tsharp.com
Dental Instrument Sharpening, Dental Instrument Retipping, New Dental Instruments, Orthodontic Instrument Sharpening, Orthodontic Instrument Retipping, Orthodontic Instrument Repair, Medical Instrument
Sharpening, Medical Instrument Retipping, Medical Instrument Repair, Surgical Instrument Sharpening, Surgical Instrument Retipping, Surgical Instrument Repair, Beautician Scissor & Shear Sharpening, Nipper Sharpening, Veterinarian Instrument Sharpening, High Speed Handpiece Repair, Slow Speed Handpiece Repair, Dental Sharpening Equipment, Orthodontic Sharpening Equipment, Beautician Sharpening Equipment, Handpiece Repair Equipment, Retipping Supplies, Retipping Equipment, Repair Supplies, Hands on Training, Training DVD'S, Training Manuals.